LumiFacial
The LumiFacial targets common skin problems, such as minor acne, redness and uneven pigmentation. During the treatment, a wrap-around facial panel is positioned in front of your face. The Soli-Tone selects the specific Light energy required for your skin type and condition.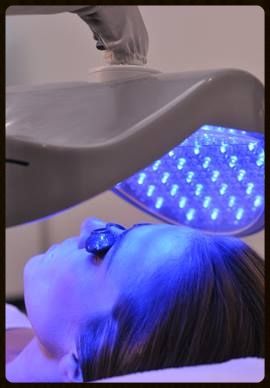 This technology was invented by NASA to use in their space shuttles. If they would get cut or wounded in space, the light helps them heal faster from the inside out!
At the end of the treatment, the esthetician will apply special products using a polarized current. The final step enhances the penetration of these products and promotes their effectiveness.
The treatment is completed after only 20-30 minutes. You can immediately return to your normal routine with no redness or peeling.
Any person experiencing the following should not have light therapy treatments:
Epilepsy, Any Auto Immune Diseases
Lupus
Cancer Fighting Drugs
Pregnant
Schizophrenia
Pacemaker
Parkinsons
How does the treatment feel?
The treatment is very comfortable; most clients fall asleep during the procedure. Unlike laser or IPL treatments that rely on thermal damage, LumiLift and LumiFacial treatments are non-invasive and totally natural. They use light from the visible spectrum, similar to sunlight but without the harmful UV rays.
How many treatments do I need?
Age, lifestyle, and skin condition will influence the number of treatments needed. During the complimentary
consultation, your skin and condition will be determined. Your esthetician will be able to evaluate your skin, explain the needed procedures and tell you the estimated number of sessions needed.
While clients usually report a noticeable improvement after just one treatment, a series may be required. A monthly treatment is a good preventive maintence regimen, however, every other week is a more proactive approach. This could be every other day..ITS That SAFE!
What results can I expect?
The improvement can be quite dramatic. Most clients see immediate results with just one treatment. Years are easily removed from the appearance of the skin. You will see younger-looking skin, reduction in fine lines and wrinkles, increased skin elasticity and redefined and firmer facial contour. Pore size is improved along with textural irregularities, acne, and pigmentation blemishes.
This is achieved with no thermal damage to the skin and no down time. Light therapy procedures are unique in that the face can be helped as well as the neck, chest, and hands.
Gift Certificates Available
Payment Options: Visa, Master Card, American Express, and Discover
Cancellation Policy
Requires a 24 hour cancellation notice or service will be forfeited.
Late policy
A client that is 15 or more minutes late will be asked to reschedule their appointment.