Current Specials
Welcome to Seasons Light Therapy!
Phototherapy Light Technology has been invented, and extensively researched by NASA. Light therapy is used by the Mayo Clinic, National Institutes of Health, US Military, and many more worldwide.
The improvement can be quite dramatic. Most clients see immediate results with just one treatment. Years are easily removed from the appearance of the skin. You will see younger-looking skin, reduction in fine lines and wrinkles, increased skin elasticity and redefined and firmer facial contour. Pore size is improved along with textural irregularities, acne, and pigmentation blemishes.
This is achieved with no thermal damage to the skin and no down time. Light therapy procedures are unique in that the face can be helped as well as the neck, chest, and hands.
Services
Microdermabrasion
Microdermabrasion
Rediscover your skin with Microdermabrasion . . . Microdermabrasion is a progressive, non-invasive treatment that propels natural  mineral crystals onto the surface of the skin for gentle epidermal abrasion that  reveals newer, healthier, younger skin.
LumiFacials
LumiFacial
The LumiFacial targets common skin problems, such as minor acne, redness and uneven pigmentation. During the treatment, a wrap-around facial panel is positioned in front of your face. The Soli-Tone selects the specific Light energy required for your skin type and condition.
LumiLifts
LumiLift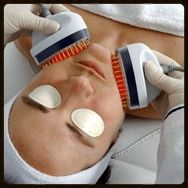 The LumiLift procedure is a revolutionary way of rejuvenating the skin and lifting sagging muscles. It is performed with two (2) special electrodes that feature an advanced applicatenergy.
Scheduling Hours
Notice: Working hours vary. Call for appointment